Hyperhidrosis is a disorder that defines individuals who sweat more than the body would normally need to maintain optimal temperature. It has been previously disregarded as a natural body reaction that most suffers learn to live with and compensate for in lifestyle, but it has also been shown to seriously affect quality of life. It can have an emotional, social and physical impact on sufferers.
miraDry®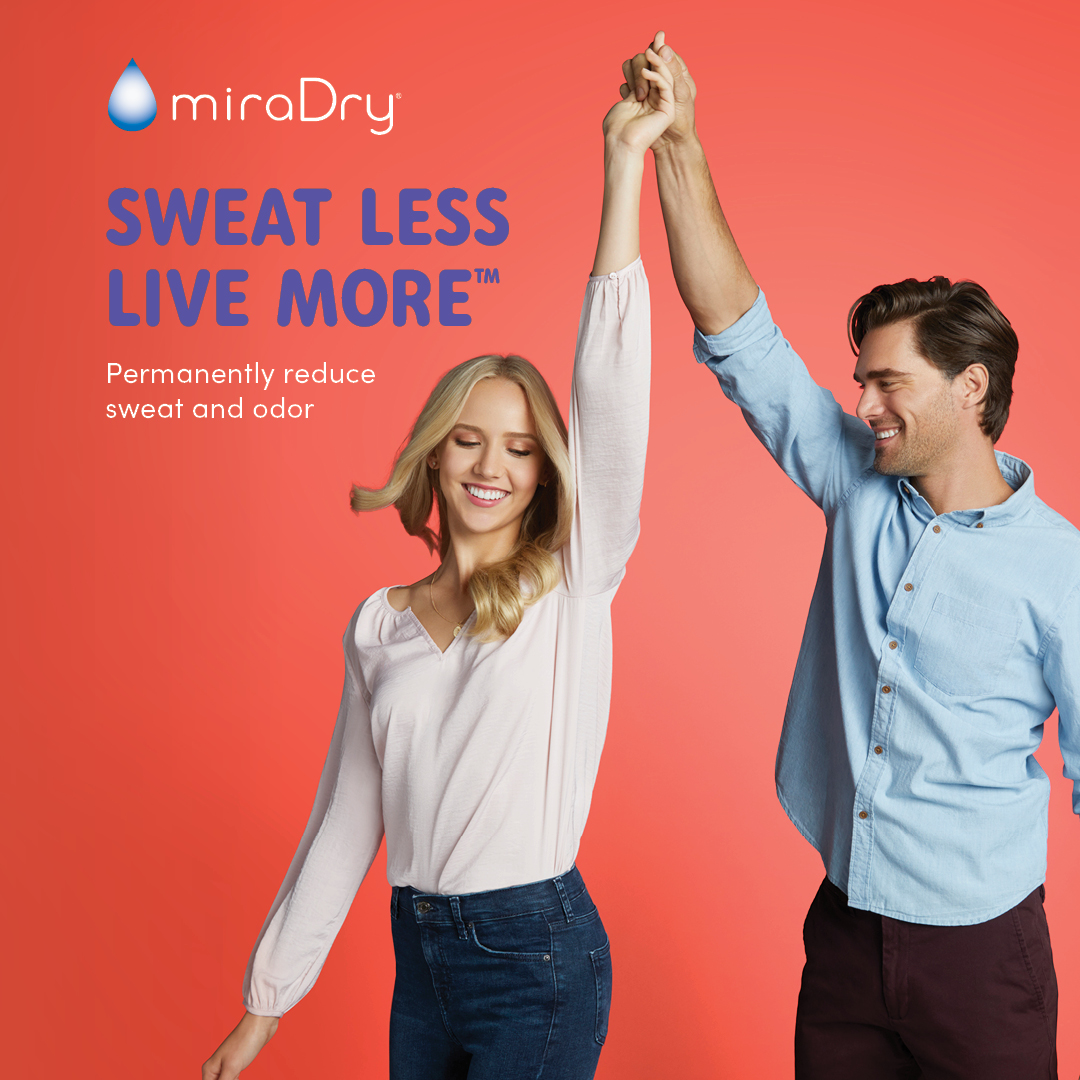 Are you bothered by underarm sweat? Do you frequently apply deodorant? Are you frustrated with constantly ruining your clothes? Are you worried about underarm sweat outbreaks? Does your underarm odour bother you?
Enjoy the freedom from underarm sweat, as now there is a lasting solution that can make embarrassing sweat a thing of the past. miraDry® is a quick non-invasive procedure that provides long lasting results. The miraDry® System delivers precisely controlled energy to the region where the underarm sweat glands reside, and eliminates the sweat glands non-invasively. Because the sweat glands do not come back or regenerate after treatment, the results are lasting. And, results are fast – you can expect to see sweat reduction immediately after treatment, with minimal to no downtime.
Get dramatic sweat and odour reduction without the use of harsh chemicals, toxins or surgery. The miraDry® procedure uses the only non-invasive technology that is FDA cleared and clinically proven to dramatically reduce sweat and provide lasting results. With one treatment, approximately 80% of people with get 80% sweat reduction. The remainder 20% of people will require a second treatment approximately 3 months later for optimal results.
Live sweat-free and odour-free FOREVER!
Click here to read about some miraDry® success stories.


"This procedure definitely works!! I have noticed a definite reduction in the amount I sweat. I feel more confident in everyday life. So far one procedure has been all I needed. I would highly recommend miraDry to anyone bothered by excessive sweating." – M.V. (age 17)


Botox®


Botox® injections are appropriate for the underarms and hands for moderate to severe hyperhidrosis sufferers. Injection with Botox® interrupts the signal from the nerve to the sweat gland to reduce sweating in the area that is affected. The injection is done with a very fine needle and a topical anaesthetic is usually required. On average, results last anywhere from 6 – 12 months. Treatment for hyperhidrosis is not covered by OHIP, but may be covered by your private insurance.


"Before the treatment my hands would sweat a lot and it would bother me with my school work, my pencil dripping and my notes would be wet. After the treatment, it was….STUPENDOUS!!" – A.M. (age 19)



Migraines

Migraine (severe headache) sufferers can now have some relief with the treatment of Botox®. Injected into the muscles of the brow, eyes, forehead, side of the head and back of the head near the neck, Botox® relaxes the overactive muscle by blocking nerve impulses that trigger contractions. Scientists believe Botox® injections work by blocking the protein that carries the message of pain to the brain. Results last for approximately 4 – 6 months. Treatment for migraines is not covered by OHIP, although your private insurance plan may cover it.



Miramar Labs® and miraDry® are registered trademarks of Miramar Labs, Inc.
Miramar Labs is a subsidiary of Sientra.
BOTOX® is a registered trademark of Allergan Inc.
© 2014 Allergan Inc. All rights reserved.