Skin Care
Keep your skin healthy and protected from the effects of aging, the sun and the seasons. We carry a variety of products to help you do just that. Retinol, which is vitamin A in its purest form, is essential to the maintenance of normal, healthy skin. It rapidly revitalizes the appearance of sun-damaged and aged skin. Daily sunblock for broad-spectrum protection is vital in assisting in the battle against wrinkles. Vitamin C, a powerful antioxidant, neutralizes free radicals to prevent skin cell damage upon absorption by the skin. No matter what your skin type – normal, dry, oily, combination or sensitive, let our experienced staff customize an effective and manageable skin routine for you.
NEW PRODUCT LAUNCH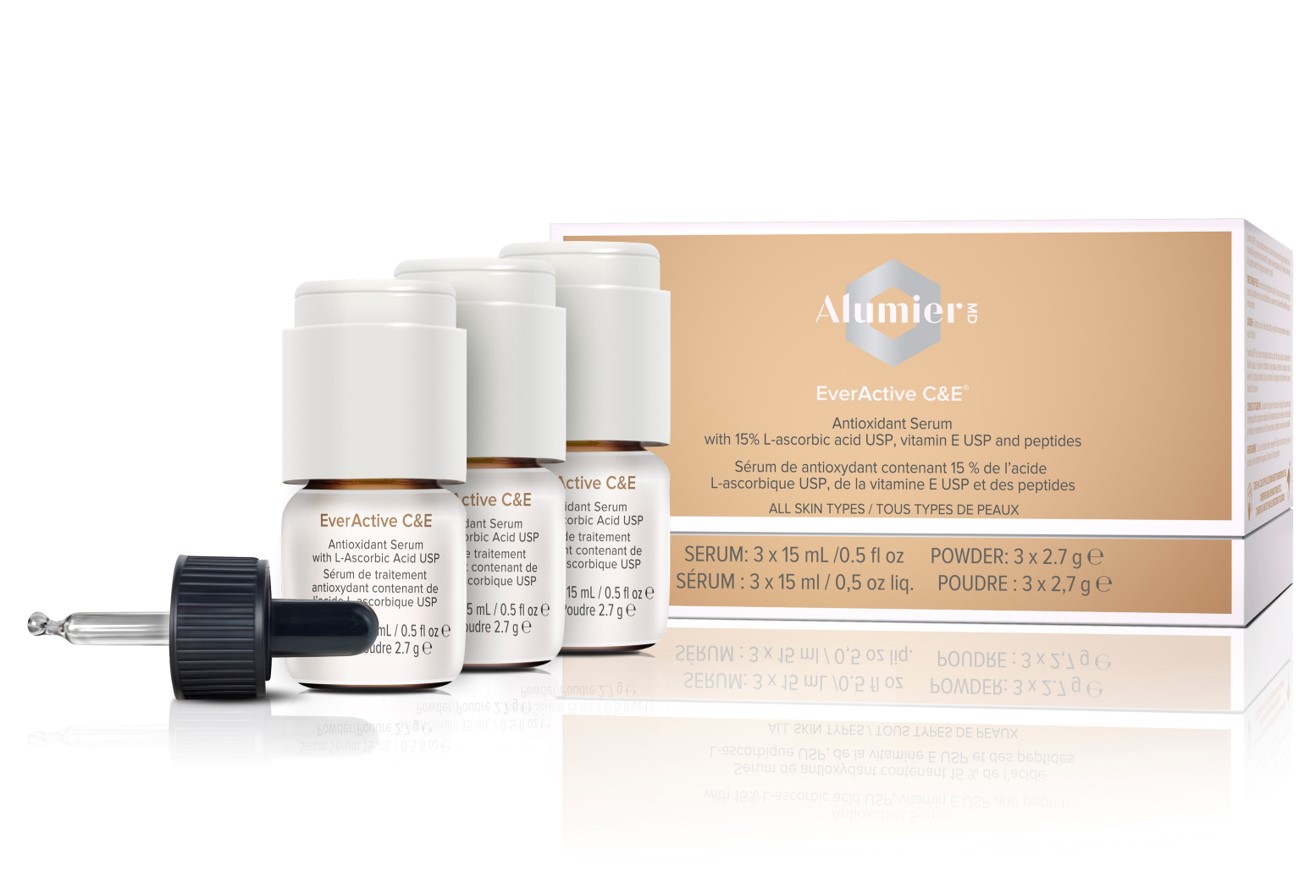 EverActive C&E® from AlumierMD is a powerful antioxidant and peptide serum for youthful and radiant skin. 15% vitamin C and E serum helps reduce the appearance of fine lines, brightens skin and neutralizes free radicals. 3 bottles, a 90 day supply and no more brown, oxidized vitamin C. Each bottle of EverActive C&E® stays fresh because you only mix the vitamin C into the serum when you are ready to use it. Available October 1st!


ZO® Skin Health
ZO Skin Health is an innovative, results-oriented skin care line, designed and recommended by physicians. Experience a younger looking, healthier skin from a simple daily skin care routine. The Daily Power Defence with 0.5% retinol is Dr. Cumberland's favourite! Specially formulated with the highest quality antioxidants, retinols and SPF. Every patient, every age, every stage!
ZO® Medical
Dr. Zein Obagi's next generation of therapeutic skincare products are available at our office. Based on the latest advances in skin therapy technology, these products have been developed and optimized to achieve healthy skin for life. Invisapeel gives you the benefit of a peel at home. Use this product 2-3 times a week to resurface your skin. A unique enzymatic formulation helps improve discolouration and texture without peeling. Well tolerated by most skin types.
AlumierMD
No more guess work…get a skin care routine which will address your skin care needs. AlumierMD is a professional medical line of the highest quality ingredients, that caters to all skin types. Free of parabens, sulfates, petrolatum, mineral oil, perfumes and dyes.
EltaMD®
A natural UV broad-spectrum sun care line. Non-comedogenic, paraben free, fragrance free for all skin types, even sensitive. The perfect sun protection after laser treatments, peels and every day use. We carry the UV Facial SPF 30, UV Daily SPF 40, UV Daily Tinted SPF 40, UV Physical SPF 41 Tinted, UV Défense SPF 45 and UV Sport SPF 50.
Jane Iredale
This top quality mineral makeup is a makeup that you don't have to feel guilty about wearing, as is actually good for your skin. It does not clog pores, harbour bacteria or contain any harsh carcinogens. Get a natural look which allows your skin to breathe.
Click here to view Jane Iredale sharing the secrets of her inspirational success.
Latisse®
Are your eyelashes thinner, lighter and shorter than they used to be? For the lashes nature should have given you, there's Latisse®. Latisse® is the only FDA-approved prescription treatment for growing longer, darker and fuller eyelashes. Results are typically visible in just 8 weeks, with regular daily use and full effects visible at 12-16 weeks.
Click here to view Latisse® before and after photos.
At the Cumberland Laser Clinic, we participate in Allergan's BRILLIANT DISTINCTIONS™ Loyalty Program with respect to treatments with any one or more of BOTOX COSMETIC®, JUVÉDERM®, BELKYRA™ and LATISSE®.
BRILLIANT DISTINCTIONS™ Loyalty Program is owned by Allergan Inc.
BRILLIANT DISTINCTIONS™ is a trademark of Allergan Inc.
© 2014 Allergan Inc. All rights reserved.